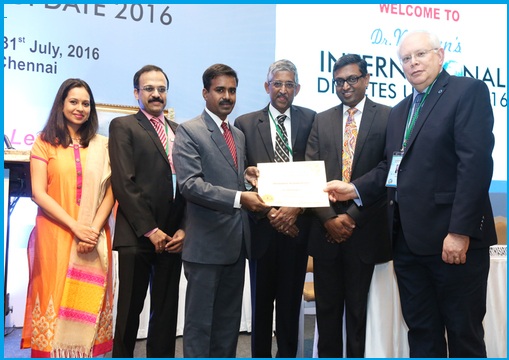 About Vaaman Sugar Clinic:
More than 72 million people of India are affected with diabetes,and the figure is likely to touch 134 million by next 10 to 15 years. It is no wonder then, that India has been tagged as the 'Diabetes Capital of the World.'
VAAMAN SUGAR CLINIC inaugurated on 05-08-2016 in the city of Hyderabad by Dr.SREEHARI.T .
Vaaman sugar clinic is established to provide "Total Diabetic Care" under one roof and not only routine treatment of diabetes but also of its various complications. To provide the modern and efficient diabetes services right in the Hyderabad so that the facilities could be made available to a larger section of people.
Dr. Sreehari.T was first joined as a Medical Officer in Govt. sector and worked for 2 years. Later he joined as a Consultant in Dr. Mohans Diabetes Specialities Center in Chennai and Hyderabad and trained for 2 years under Internationally Acclaimed Diabetologist Padmasri Professor. V. Mohan. He has also completed " C.C.G.D.M" in P.H.F.I in 2014. He completed his Post Graduate Diploma in Clinical Endocrinology and Diabetes-RCP(U.K) in 2018.

He believes that Diabetes is one of the leading disorders to plague our generation today. Yes, it's a disorder, not a disease, and the good news is that it can be well managed with proper self-care and treatment. However, this disorder can lead to a number of serious complications, whether of the heart, nerves or eyes, and if diagnosed late or left untreated, the damage can be irrevocable. It's important to partner with the right diabetes clinic, who devises the right plan to guide you and keep you healthy with the condition.

About Our Dental Care Wing:
We also provide a complete dental care ,We have a multi speciality dental clinic with some of the most experienced and specialist dentists in Hyderabad, offering the best in dental treatment.Whether you are looking for complicated treatment like Dental Implants, some cosmetic dentistry treatment or a simple dental checkup, we have the right team to take care of you.
Our Mission:
Our mission is to help people fight diabetes to live healthier, longer and more fulfilled lives. With targeted investments in education and research, we employ the latest technology across a vast network of practitioners and clinics to deliver excellence across the diabetes management ecosystem.
Aims & Objectives:
-To establish tertiary care, referral and state-of-the-art facilities for diabetes, metabolic disorders, obesity and other endocrine disorders.
-To manage and treat above disorders with appropriate and evidence based knowledge, with particular help to underprivileged people.
-To link up with foreign institutions and scientists for exchange of ideas and human resources for advancement of knowledge, education and collaborative research.
-To conduct state-of-the-art research in the fields of diabetes, obesity, metabolic syndrome and endocrinology.