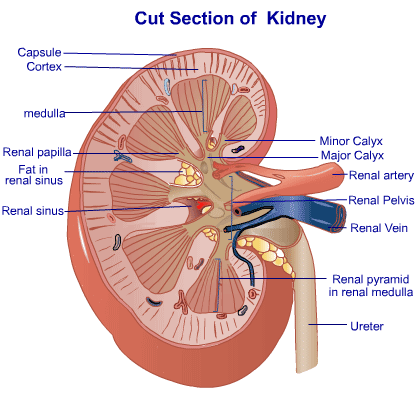 INVESTIGATIONS:
If albuminuria is detected the following investigations are recommended:
• 1. Check for the history of other renal diseases in the family.
• 2. Check for urinary tract infection through urine and culture sensitivity test.
• 3. Ultrasound examination of the kidneys.
• 4. Measurement of urea and serum creatinine and comparison with previous levels.
• 5. 24 hr urine collection for protein excretion.
• 6. Blood pressure measurement.
• 7. Check ECG and Chest X-ray.
• 8. Retinal examination.

RISK FACTORS LEADING TO KIDNEY DISEASE:
• 1. Poor control of diabetes.
• 2. Long duration of diabetes.
• 3. Uncontrolled blood pressure.
• 4. Genetic Factors (Family History of kidney disease).
• Any wound that has occurred
• Any shiny appearance on the feet.
How to prevent kidney disease:
o 1. Diagnosing diabetes at an early stage by regular screening.
o 2. Once diabetes is diagnosed, it should be kept under very good control.
o 3. Tight control of blood pressure (130/80mm/Hg) helps to prevent kidney damage.
o 4. Regular screening for microalbuminuria to identify early stages of kidney damage.
o 5. Use of ACE inhibitors or other drugs, which have very good effect in early stages of kidney disease.
o 6. Regular check-up at diabetes centre.
o 7. Strict diet as advised. If there is proteinuria, the protein intake in the diet may have to be reduced.
KEY MESSAGES:
o Diabetic kidney disease is one of the commonest causes of kidney failure.
o Kidney disease is asymptomatic till late stages.
o Kidney disease is preventable by early detection of diabetes and good
control of diabetes and blood pressure.
o Screening for diabetic kidney disease should be done at least annually.
o Any wound that has occurred
o Any shiny appearance on the feet.

DIABETES FOOT CARE
As diabetic patients age or the duration of diabetes increases, they may develop diminished sensation and decreased peripheral circulation in the feet and thus are at an increased risk of developing foot infections, especially in those will poorly regulated diabetes.
COMMON PROBLEMS IN DIABETIC FOOT:
1. Decreased Blood Supply (Ischaemia):
The ischaemic leg, besides absent or reduced pulses, also has other characteristic features.The skin may become thin and there is usually loss of hair on the foot and ankle. Fissures are very common and ulcers may be painful. It may also be cold to touch.
2. Decreased Sensation (Neuropathy):
The neuropathic foot also has some characteristic features. The feet tend to be warm and dry and relatively insensitive to touch. Neuropathy may affect the muscles of the foot causing clawing of the foot. All this causes the fat pads covering the bones of the feet to be moved away from its position. Thus exposing it to weight bearing areas. Any weight bearing area without adequate protection tends to open and form a wound called as an ulcer. In order to protect the leg, nature offers a mechanism by which it thickens the skin to avoid forming a wound. This protective mechanism will lead to problems such as callus and corns in later stages due to irritation ofthe tissues beneath. These can break down and lead to ulcers.
3. Infection:
Both Ischaemic and neuropathic lesions are commonly complicated by infection. Common symptoms of infection are fever, redness, swelling or pain. Pus may also be seen in the lesions.
4. Combined Lesions:
It is common for a patient to have all the processes mentioned above occurring at the same time. Thus a person can have an infected, neuropathic lesion with poor blood circulation. To identify and treat the common problems of diabetic foot every individual with diabetes should know what are the abnormalities to look for in their feet. Early detection and prompt attention can not only help save feet, they can also be life-saving.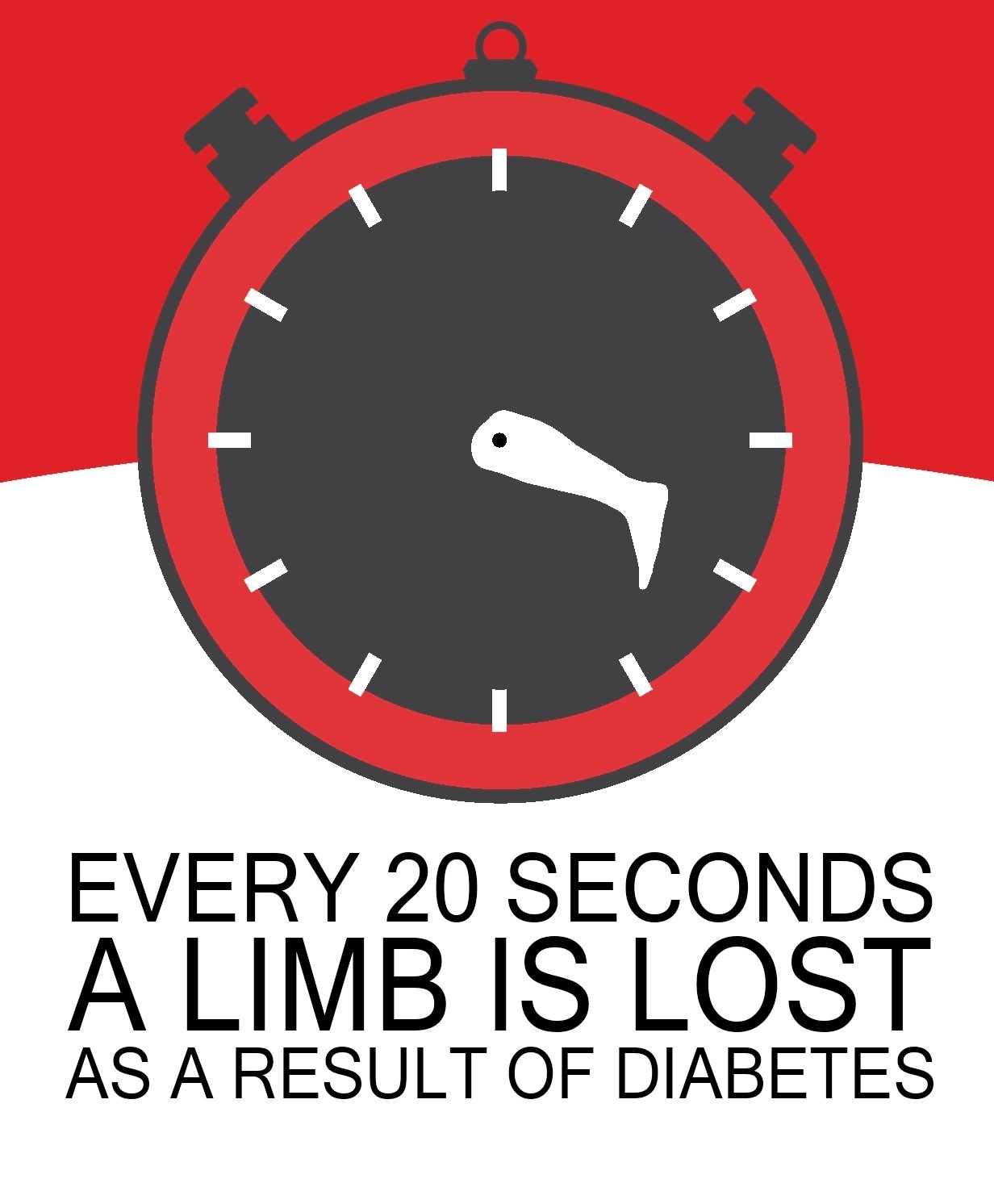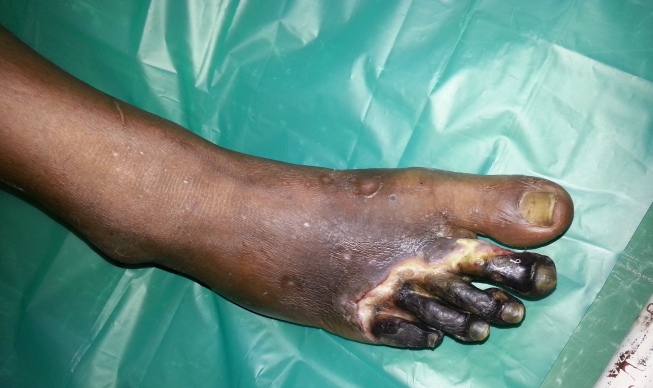 How to look after your feet?
• 1. Keep feet clean - wash them regularly.
• 2. Use only lukewarm water - no hot water, heating pads, hot water bottles, iodine or alcohol.
• 3. Keep the feet dry - especially between toes-use unscented lotion or cream to keep skin soft.
• 4. Use only medicines recommended by your doctor or chiropodist (podiatrist).
• 5. Cut toe nails straight across, not deep into the corners to help avoid ingrown toe nails.
• 6. Never use razors, knives or corn caps to remove corns.
• 7. Wear shoes or slippers at all times -never walk bare foot even at home.
• 8. Wear good fitting shoes/slippers - not tight or wornout ones. Boots should be used only for short periods.
• 9. Check your feet daily and see your doctor or chiropodist immediately about foot problems
How to self examine your feet?
o 1. Sit on a bed or comfortable flat surface with legs drawn close to your body o 2. Hold a big size mirror beneath your feet 6 - 12 inches away. LOOK FOR:
o Any cracks
o Peeling of the skin
o Abnormally dry skin
o Colour change in any area
o Any wound that has occurred
o Any shiny appearance on the feet.
Feel your feet with your hands for:
• 1. Abnormally cold feet
• 2. Any thickening of skin in the soles, especially beneath the big toe
• 3. Any protruding bone beneath the feet
• 4. Any change in the shape of the feet
• 5. Swelling of the feet
• 6. Localised redness or warmth of the feet.
• 7. Ulcers or wounds.
Inform your doctor if any of the above are present!










---
---
Obesity Care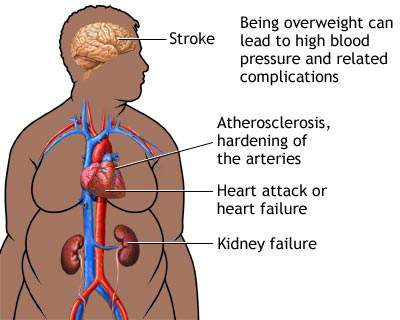 Your Weight and Diabetes
Diabetes is a group of disorders characterized by chronic high blood glucose levels (hyperglycemia) due to the body's failure to produce any or enough insulin to regulate high glucose levels. There are two main types of diabetes. Type 1 diabetes, which often occurs in children or adolescents, is caused by the body's inability to make insulin or type 2 diabetes, which occurs as a result of the body's inability to react properly to insulin (insulin resistance). Type 2 diabetes is more prevalent than type 1 diabetes and is therefore seen in roughly 90% of all diabetes cases. Type 2 diabetes is predominantly diagnosed after the age of forty, however, it is now being found in all age ranges, including children and adolescents.

How does my weight relate to type 2 diabetes?
There are many risk factors for type 2 diabetes such as age, race, pregnancy, stress, certain medications, genetics or family history, high cholesterol and obesity. However, the single best predictor of type 2 diabetes is overweight or obesity.
---
GESTATIONAL DIABETES MELLITUS(G.D.M)